Applications of Outdoor Display Sign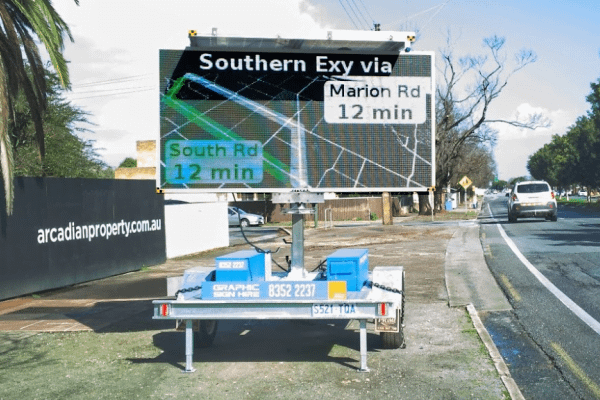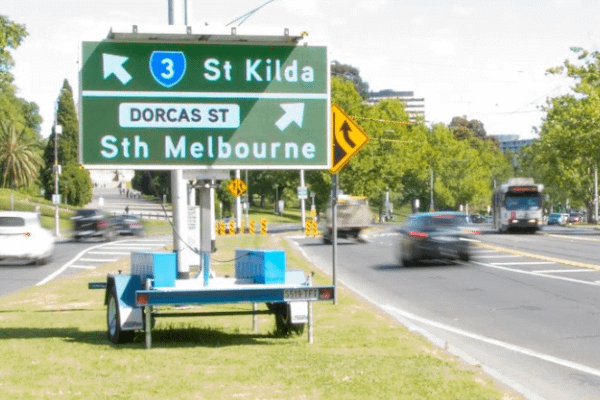 Gantry Road Sign Replacement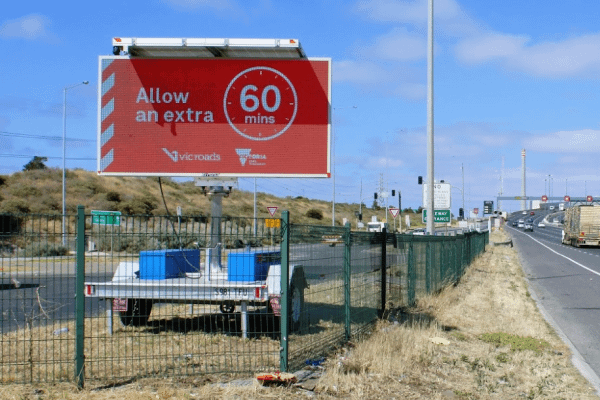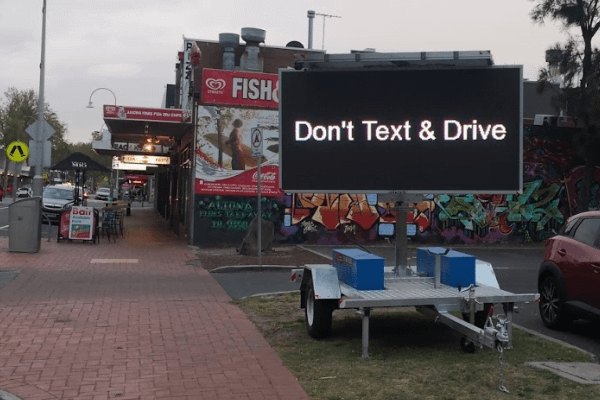 We operate the largest fleet of solar digital LED screens across Australia.
And we specialise in state and nation wide blanket rollouts.
Solar LED advertising screens are a powerful way to convey captivating messages, engage your audience and educate them about your brand without the need for an external power source.
Providing a cost effective and environmentally friendly signage solution, solar powered LED signs are suitable for any location — indoor or out — and ideal for night or day.
Solar powered LED signs not only power themselves during the day, but they continue running long after the sun has set.
The benefits of solar LED screens
Rain, hail or shine, solar powered LED signs have many benefits for the environment, your budget and the effective delivery of your messaging.
High-resolution display
Our solar LED advertising screens are capable of projecting 16 million colours, have detailed display graphics and offer the option of video playback.
Fixed cost
No additional charges for electricity, servicing, maintenance or re-printing signage when you want to change your message.
Dynamic
Display multiple messages and customise your message as you need with remote programming capabilities.
Portable
Trailer mounted and lightweight makes our VMS boards quick and easy to transport.
Safe and convenient
Hazards as a result of electrical wires running to power sources will be removed as the units are self-sufficient, running on solar power.
Versatile
Without the need to connect to a power source, the solar powered LED signs can be located just about anywhere — roadsides, car parks, fields, showgrounds and parks.
Environmentally friendly
Reduce your carbon footprint by choosing a solar powered signage solution.
Durable
Our Mobile LED video screens are IP-rated, meaning they are weatherproof and will withstand the harsh outdoor climate whether it be rain, hail or shine.
Easy to install
Portable and lightweight, our variable message signs can be easily installed in just a few minutes, keeping assembly time and labour costs down.
Our Solar Digital LED signs
At Graphic Sign Hire, our solar powered digital advertising signage has a high-resolution display screen. The screen is capable of projecting 16 million colours, has detailed display graphics and offers the options of a video playback.
With options to run 14 or 24 hours non-stop, our solar powered LED signs are effective, easy to install and environmentally friendly.
Frequently Asked Questions
Do the solar powered LED signs work at night?
Both models of Solar Digital LED screens are suitable for use during the day and night. The Solar14 model will operate 14 hours per day and the Solar24 model 24 hours per day, when they are correctly installed.
Are they weather resistant?
Our solar advertising screens are designed to withstand the harshest outdoor conditions in just about any location.
Can you put them under a tree?
While our solar digital LED signs will still work under shadows formed by trees, tall buildings or other objects, the shadow will greatly impact optimum daily operation hours which is outside of our control.
Do we need to charge them?
It is not necessary to charge solar LED signs as they will automatically recharge themselves with sun light. As such, uninterrupted sunlight exposure is required. Our solar powered LED signs contain enough reserve to last seven days of inclement weather. In the rare case of extreme weather, they can be super charged overnight in our workshop.
Our goal is to help you deliver captivating messages and get more customers so we'll go the extra mile when it comes to hiring digital signage.
We are committed to not only offering the most competitive pricing but delivering the all round best service.