Our Solar Digital LED Screens works day and night, minimum 14 hours a day with our latest model works around the clock for 24 hours a day non stop. 
Unlike VMS boards, our Solar Digital LED signs comes equipped with high resolution video screen that's capable of producing 16 million colours, display detailed gracphics and even video play back.
While a mains powered LED screen requires a very long extension cord, and uses approx $40 – $80 worth of electricity every week. Our solar screen is powered by the sun, with no extension cords and no electricity bills.
Wide Range of Applications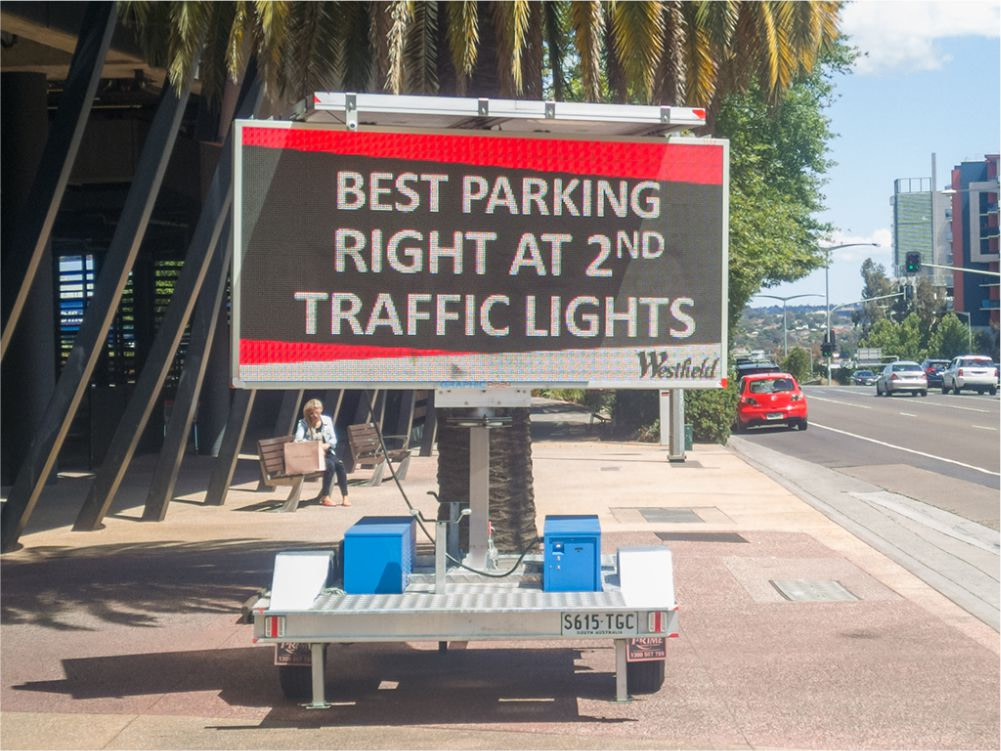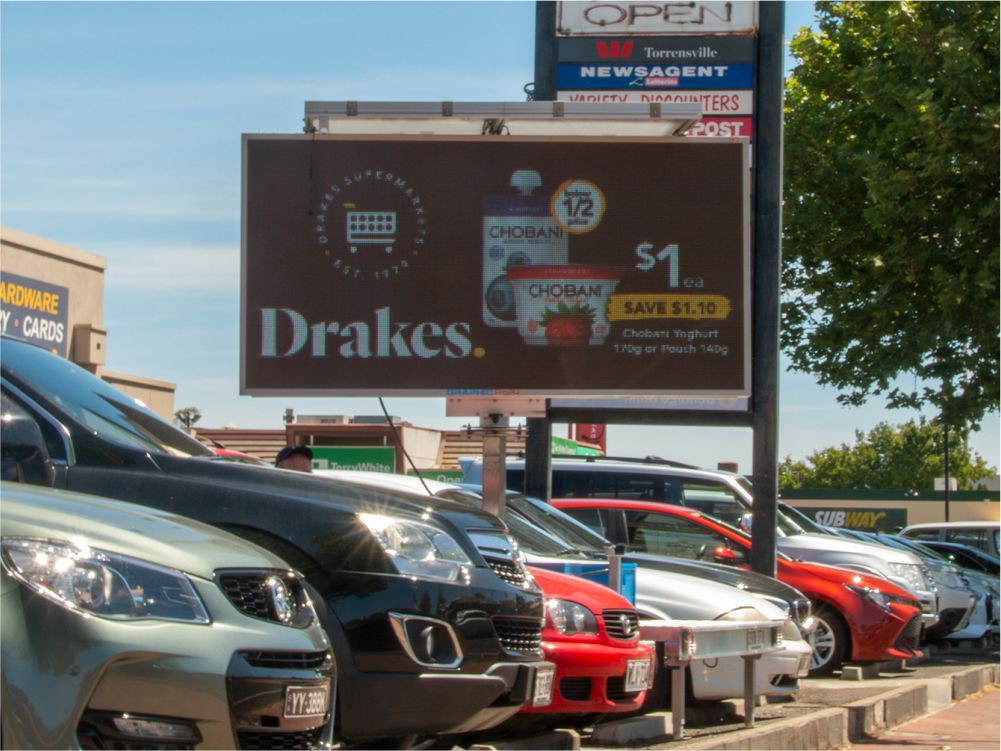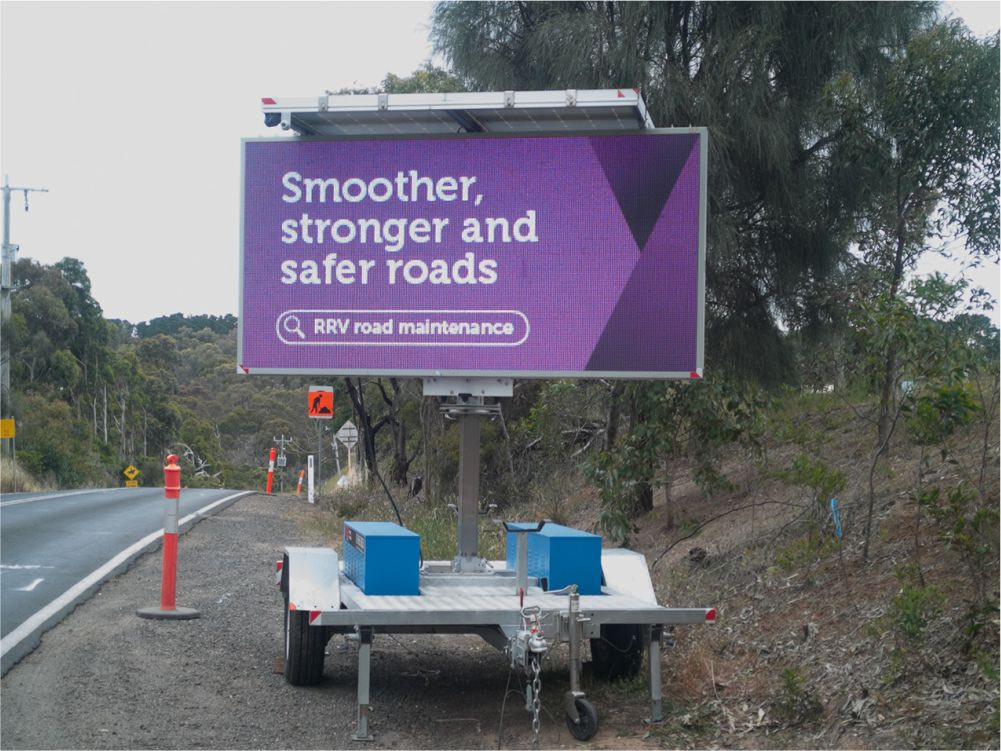 We operate the largest fleet of Solar Digital LED Screens across multiple states.
And we specialise in state/national wide blanket rollouts.
Solar Digital LED Signs For Hire
Solar 14
Works 14 hours a day
2.6 x 1.3m Digital Screen

Works 14 hours a day

Max Brightness 6000 nits

360 Degree Rotation

 
Solar 24
Works 24 hours a day
2.6 x 1.3m Digital Screen

Works 24 hours a day

Max Brightness 7000 nits

360 Degree Rotation

Latest Generation
About Solar Digital LED Signs
Solar LED advertising screens enable you to convey captivating messages, engage your audience or educate them about your brand without the need for an external power source.
If you need information or advertising screens on a roadside or carpark, or event signage in a garden, a field, or any outdoor location where power connection is difficult, a solar powered outdoor LED sign will save the day. Solar powered outdoor LED signs not only power themselves during the day, but they continue running on the gloomiest of days and even after the sun has gone down.
Not only are solar powered LED signs a major convenience in locations without a power source nearby, they are cost-effective and better for the environment. By using solar energy, you will be doing both the environment and your hip pocket a favour.
Why Hire Solar LED advertising screens?
A solar powered LED advertising screen has many benefits for the environment, your budget and the effective delivery of your messaging. Here are a few of the benefits of hiring solar powered LED signage:
Fixed cost – no additional charges for electricity, servicing, maintenance, or re-printing signage when you want to change your message.
Flexible – change your messaging easily and instantly.
Safe and convenient – since they do not require electricity, they do not need to be plugged in, so there is no hazardous cords and wires laying about.
Versatile – because our solar signs do not need a power supply, they can be put anywhere. Roadsides, carparks, fields and parks you name it.
Environmentally friendly – Solar power is not only good for your budget, but not using electricity will reduce your carbon foorprint.
Our Solar Digital LED
At Graphic Sign Hire, our solar powered digital signage has a high-resolution display screen. The screen is capable of projecting 16 million colors, has detailed display graphics and offers the options of a video playback.
The backup of these solar powered signs is excellent with our most popular model giving 14 hours a day. And if that's not enough – the Soalr24 offers non-stop, 24 hours a day of work.
Not only is getting solar powered signage from Graphic Sign Hire extremely effective, but it is also safe and hassle-free. No cords, no electricity bills, no worries.
Frequently Asked Questions
Do they work at night?
Both models of Solar Digital LED screens works day and night. The Solar14 model works 14 hours a day and the Solar24 model works 24 hours a day, when they are properly setup.
Are they weather resistant?
Our solar screens are built for outdoor conditions and from time to time deployed in remote locations, they are build for the with stand the elements.
Can you put them under a tree?
While our Solar Digital LED Signs will still work under shadow formed by trees, tall buildings or other objects, the shadow will greatly impact their optimum daily operation hours outside our control.
Do we need to charge them?
Not necessary. Our Solar Digital LED signs will automatically recharge themselves with sun light, so uninterupted sunlight exposure is required. they also have enough reserve to last 7 days of bad weather. In the rare case of extreme weather, they can be super charged over night in our workshop.
Our goal is to help you either get more customers, or deliver a message. So we will go the extra mile than just hiring the sign.